Hyper-Efficient by Nature
Leverage the efficiency and security of mother nature in your next generation data center.
Learn More
GridRock Data Center
Take your Data Underground
Nestled in the tree-lined bluffs overlooking the Mississippi River and strategically located in the St. Louis metropolitan area, GridRock's unique site offers significant natural and commercial benefits for a next generation, sustainable, hyper-secure data center.
Learn More
Safe, Secure & Physically Stunning
With 5 million square feet of available space, GridRock Data Center is ready to handle a diverse range of data center requirements.
Learn More
GridRock Advantages
Using the natural power of nature.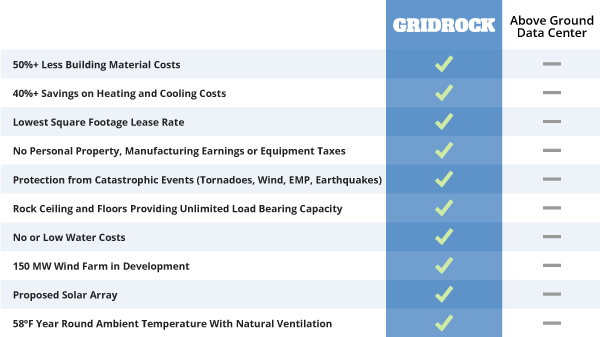 Why Underground?
Realize significant strategic advantages moving your data center underground with GridRock Data Center. Not only do we save space, we make it more affordable. Our dedicated storage center is looking forward to hosting your data in our naturally protected facility.
GridRock can keep your data safe, secure, fast, and at a lower cost than traditional above-ground data centers. Centrally located and sustainable, our facility minimalizes resource consumption and maximizes efficiency in Rock City's limestone mine.
Learn More
Powered By Nature

GridRock Data Center powers your data using natural and traditional power, lowering costs and the impact to the environment.

Lower Costs

Due to the unique structure of the GridRock facility, we are able to offer our clients the lowest square footage lease rate available.

Naturally Efficient

GridRock's cool natural temperature and structural integrity make it efficient by nature.